Black ants search in both domestic and industrial premises in search of sugary foods, worker-ants can be a real nuisance pest. Ant pest control will remove these insects and restore your home or workplace to normal.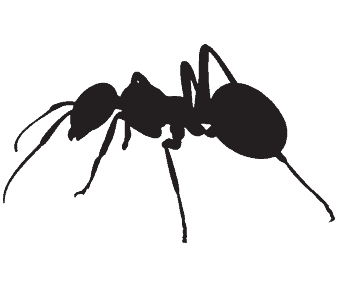 Call a Pest Control Expert on 0114 3491098
The majority of ant species prefer warmer climates, and the UK temperature is not best suited for many of them. However, the type of ants found in the UK can be a nuisance when they get into your home. Garden or Black Ants aren't known to carry diseases, and the trouble is you don't know where they've been foraging outside.
So the last place you want an army of ants is marching through your food cupboards. Ants will travel far distances in search for food, following chemical trails they have established and clustering around the source of food.
As the ant's cluster this becomes a nuisance in businesses and homes. Outside, small piles of earth around holes in the soil and at the base of exterior walls can indicate their origin.
There are two common types of ant problems that we encounter regularly.
Ants that live outside and forage inside
Ants that already built a nest inside
Your ant control will depend on the type of ant infestation and size of the ant colony. Identifying which kind of ants you have is helpful, to work out the best way to treat the ant removal. It is also useful to use a magnifying glass to inspect ant trails and nests.
To control your ant problem, an inspection is the first step.
To find the ant nest, we need to follow their trails. Ants lay down a chemical pheromone, and they leave it along with their established routes to and from a food source so the other ants can easily find the food.
Inside your house, we inspect along the carpet edges, doors, windows, and all areas of the kitchen. The easiest way to find an ant trail to the nest is to watch where ants go after reaching the food source.
Outside your home, we inspect around foundation walls and areas of vegetation. Any plants or shrubs found near patios and walls may hide an ant nest or their trails. We check under any item that is on the ground as some ant nests are well protected.
Professional Business Services for Pests
Commercial pest management offers ongoing support to protect buildings and property. As well as protecting your business from loss of profits, pest control safeguards your reputation against bad reviews.
The pest list is endless; here are the main culprits:
Ants
Rats
Mice
Wasps
Cockroaches
Fleas
Bugs
Bed bugs
Insects
Call Apex pest control for a free quote on commercial pest management on 0114 3491098
Dealing with Ant Infestations
We treat the ant nest directly if possible or use bait in the house and on the ant trails.
Our local NPTA (National Pest Technician Association) certified Technicians offer methods of ant control that are targeted to eliminate specific indoor ant species. They will solve the problem quickly, and they're perfectly safe for your family and pets.
Please contact Apex pest control free on 0114 3491098. We'll get back to you within 24 hours to arrange help for ant control tailored to your specific problem.
Popular Ant Control Questions
No matter what type of ants you have, they typically can be eradicated using ant traps, gels or spray insecticides. For most homes, you will expect to pay around £65 for a one-time visit from an ant exterminator to treat indoor ants. Some pest control companies also offer annual contracts costing between £250 and £700
Pest control Doncaster
Pest control Derbyshire